MEMBER ACHIEVEMENTS


MAKIARIS MEDIA CELEBRATES 30 YEARS


January 13, 2017
MIDDLETOWN, CT., January 11, 2017 – Makiaris Media Services, an award-winning Connecticut-based media planning and buying service, is proud to celebrate 30 years as a leader in creating and implementing strategic, custom media plans for its clients.
To commemorate the milestone year, and in keeping with its tradition of giving back to the community, Makiaris Media will donate 30 food items per month to the Amazing Grace Food Pantry in Middletown, as part of a "30 for 30" drive.
The media consulting agency will also be launching a fully re-vamped website and introducing a new logo and marketing collateral for its anniversary year. The new website includes a more thorough description of the agency's services, personalized photos of its management team and in-depth case studies of some of the agency's many success stories.
Founder and CEO Irene Makiaris, a member of the Middlesex Chamber of Commerce's Board of Director, attributes the success of Makiaris Media Services to its vision and team of media professionals.
"Our management team has a combined experience of over 140 years," Makiaris says. "What sets us apart is our dedication and commitment – we never stop learning and armed with that knowledge and experience we are able to seize the best opportunities in traditional media as well as online, mobile and digital applications – always negotiating from a position of knowledge."
Makiaris Media Services places millions of dollars annually in local, regional and national markets in all forms of media, enabling the agency to leverage buying power in securing the lowest rates and most added value for its clients.
About Makiaris Media Services: Makiaris Media Services was founded in 1987 by Irene Makiaris, one of Hartford Business Journal's Remarkable Women in Business and also one of the first two Inductees into the Connecticut Ad Club Hall of Fame.
MMS provides comprehensive media consulting services, including research, analysis, planning, buying, placement and post-buy follow-up across all media. The agency has proven success in broadcast, print, out-of-home, digital and mobile. MMS has worked with clients across categories including automotive, political, retail, finance, banking, insurance, healthcare, business-to-business and more. The agency has been awarded the American Marketing Association's prestigious EFFIE award for excellence in media. To learn more, visit makiarismedia.com, or contact John Scully at 860-854-6380, jscully@makiarismedia.com.

---
CITIZENS BANK TO ADD DIGITAL LENDING CAPABILITY FOR SMALL BUSINESS CUSTOMERS


December 20, 2016
Collaboration with Fundation will expedite and expand small business loan approvals

PROVIDENCE, RI – Citizens Bank today announced that it will offer digital lending capabilities to small business customers through a collaboration with Fundation Group LLC, a leading digitally-enabled lender and credit solutions provider to regional and community banks. This continues Citizens' strategy of leveraging innovative digital technologies that create better end-to-end customer experiences. The service is expected to be available in mid-2017.

The added capability will enable small businesses to apply for loans and lines of credit through a simple online application at citizensbank.com. In most cases approval is provided within minutes, and loans are funded in as little as three business days. Additionally, Fundation will offer credit to some customers that do not meet Citizens' credit guidelines, helping the bank to serve more of its small business customers' credit needs.

"We know that time is valuable for our business banking customers. This simple digital application process will be quicker and more efficient for customers making smaller requests for credit, enabling them to get back to running their businesses sooner," said Chris Ward, head of business banking for Citizens Bank. "We believe that our new, automated lending platform will complement the tailored, advice-based services available through relationship managers and bankers to our customers who need larger loans or have more complex needs such as cash management."

Sam Graziano, CEO of Fundation, added, "At Fundation, our mission is to enable our strategic partners to serve their small business customers more efficiently and more broadly. This collaboration does exactly that. The combination of Citizens Bank's powerful customer-facing brand and our digital lending platform will allow us to collectively serve more customers with best-in-class products and a best-in-class customer experience."

Citizens Bank recently announced a partnership with digital wealth management service SigFig, to offer customers integrated banking and digital investment services starting in early 2017.

Fundation recently announced strategic partnerships with Regions Bank, the BancAlliance community bank network, and the Department of Commerce's Minority Business Development Agency. Fundation also recently secured a $100 million credit facility from Goldman Sachs, which bolsters its capacity to extend credit to small businesses across the United States through its banking and other strategic partnerships.

The digital lending service is subject to the negotiation of a definitive agreement between Citizens Bank and Fundation.
---
UNITED TECHNOLOGIES DELIVERS TOYS FOR TOTS FOR THE 36TH CONSECUTIVE YEAR


December 5, 2016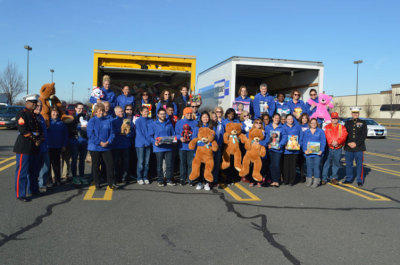 Dozens of United Technologies Corporation (UTC) employee volunteers gathered to purchase, load and deliver thousands of gifts for the Toys for Tots program of the U.S. Marines Corps Reserve. Over 36 years, UTC has donated more than half-a-million toys to Toys for Tots to help less fortunate families throughout central Connecticut. Volunteers shopped for children's gifts at two Toys "R" Us locations in Newington and Manchester, then loaded and delivered their donations to the U.S. Marine Corps Reserve, Company C, headquarters in Plainville. UTC's donations make up over half of the total number of toys the Plainville Marines give to families and non-profit organizations in Hartford and Tolland counties. UTC is traditionally the largest corporate provider of toys to the Marine Reserve's Plainville program.
Photo credit: United Technologies Corporation
---
SOLECT ENERGY ANNOUNCES EXPANSION TO CONNECTICUT


November 29, 2016
Massachusetts solar company hires Director of Business Development to lead company's expansion into The Constitution State

HOPKINTON, MA – Solect Energy, the leading full-service commercial-scale solar company in Massachusetts, announced today that the company is expanding its business into the state of Connecticut. The company recently expanded its operations and maintenance services, and will now pursue new projects—in addition to those in Massachusetts and Rhode Island—as a licensed Connecticut solar provider.

"We are excited to take on this new venture and pursue the opportunities that lay ahead for solar energy in Connecticut," said Craig Huntley, Chief Development Officer and Co-Founder of Solect Energy. "Connecticut has seen tremendous growth in solar energy in the past four years, and is expected to continue that growth over the next several years and beyond. We are proud to play a part in the solar efforts of Connecticut and help the state's businesses, municipalities and nonprofit organizations reduce energy costs through solar energy."

At the forefront of Solect's expansion into Connecticut will be Kent McCord, recently hired as Director of Business Development at Solect Energy. Based in Granby, McCord has 15 years of experience in the renewable and alternative energy market. Prior to joining the Solect team, McCord was Director of Sales and Marketing at Doosan Fuel Cell, a leading manufacturer of fuel cell combined-heat-and-power (CHP) systems in South Windsor, CT. Kent's project development expertise includes all types of CHP solutions, waste-heat-to-electricity systems, and commercial solar solutions.

"I am thrilled to serve the Connecticut area as Director of Business Development for Solect Energy," said McCord. "Connecticut has among the highest electricity costs in the country, and solar is a great way for building owners to reduce utility costs while making their own renewable energy. With a strong Renewable Energy Credit (REC) program and attractive financing available from the CT Green Bank, commercial rooftop solar systems are a smart investment in our state."

Connecticut has installed 265 megawatts (MW) of solar energy, ranking it 17th in the country for installed solar capacity—and this momentum is only projected to continue. The state is committed to a goal of 20% renewable energy by 2020, and is expected to install an additional 900 MW over the next five years.

The state's Zero Emission Renewable Energy Credit (ZREC) program has been the prime driver of the commercial solar market in Connecticut, providing a fifteen-year revenue stream for owners of solar energy systems, in addition to the value of reduced utility bills. The CT Green Bank also has numerous innovative financing solutions based on the successful Commercial Property Assessed Clean Energy (C-PACE) program. The C-PACE program helps businesses and municipalities access affordable financing for renewable energy systems. It offers no upfront costs to upgrade your building, 20 year funding, no payoff upon sale, and the ability to share costs and benefits with any tenants you may have. The program has significantly helped commercial properties decrease their energy costs, making going solar in Connecticut all the more attractive.

As Massachusetts ranked sixth for installed solar capacity last year with 1,199 MW installed, it is one of the country's leaders in solar energy. The state was also ranked second for number of solar jobs with 15,095—second to California. With its C-PACE program and upward solar trend, Connecticut is on track to benefit in similar ways, both on a state level through enhanced employment rates and economic growth, and at the individual business level through reduced operating costs and energy price stability.
---